Playtime Changing Pad™
Keep curious little hands happy... away from the diaper mess! 💩
Regular price
$29.99 USD
Sale price
$25.49 USD
Unit price
per
Sale
Sold out
Shipping

Free Shipping on All Domestic US orders.

All items ship from our warehouse in Oregon.

Shipments placed before noon pacific standard time on regular business days will ship out the same day and typically deliver within 2 to 5 business days.

If you have any questions or need any help, email Amy and Mike at info@snoofybee.com and we will help you out.
Satisfaction Guaranteed

Quality Guarantee: If your item doesn't last for at least 1 year with regular use, we will replace it for you.

Satisfaction Guarantee: As parents of 6 kids we understand that what works great for most, doesn't necessarily work for every child. For that reason, we provide full refunds on all returns within 30 days.

See our returns guide for more details

If you have any questions about your shipment or need to process a return please contact us at info@snoofybee.com
Care Instructions

Spot clean water resistant surface instantly with disinfectant wipe or washcloth with mild detergent.

When needed, hand wash with mild detergent and cold water.

Air dry laying flat.

Parts can get caught in the washing machine or dryer so avoid machine washing unless it is inserted into a garment bag and the delicate setting is selected.

Do not use undiluted bleach.

Do not iron

High heat can effect the water resistant surface of the changing pad.
Materials

Exterior fiber: 100% Polyester

Interior lining: 100% Polyester with Polyeurethane Laminate for water resistant feature.

Inner material: nonwoven fabric

Inner Foam: Polyethylene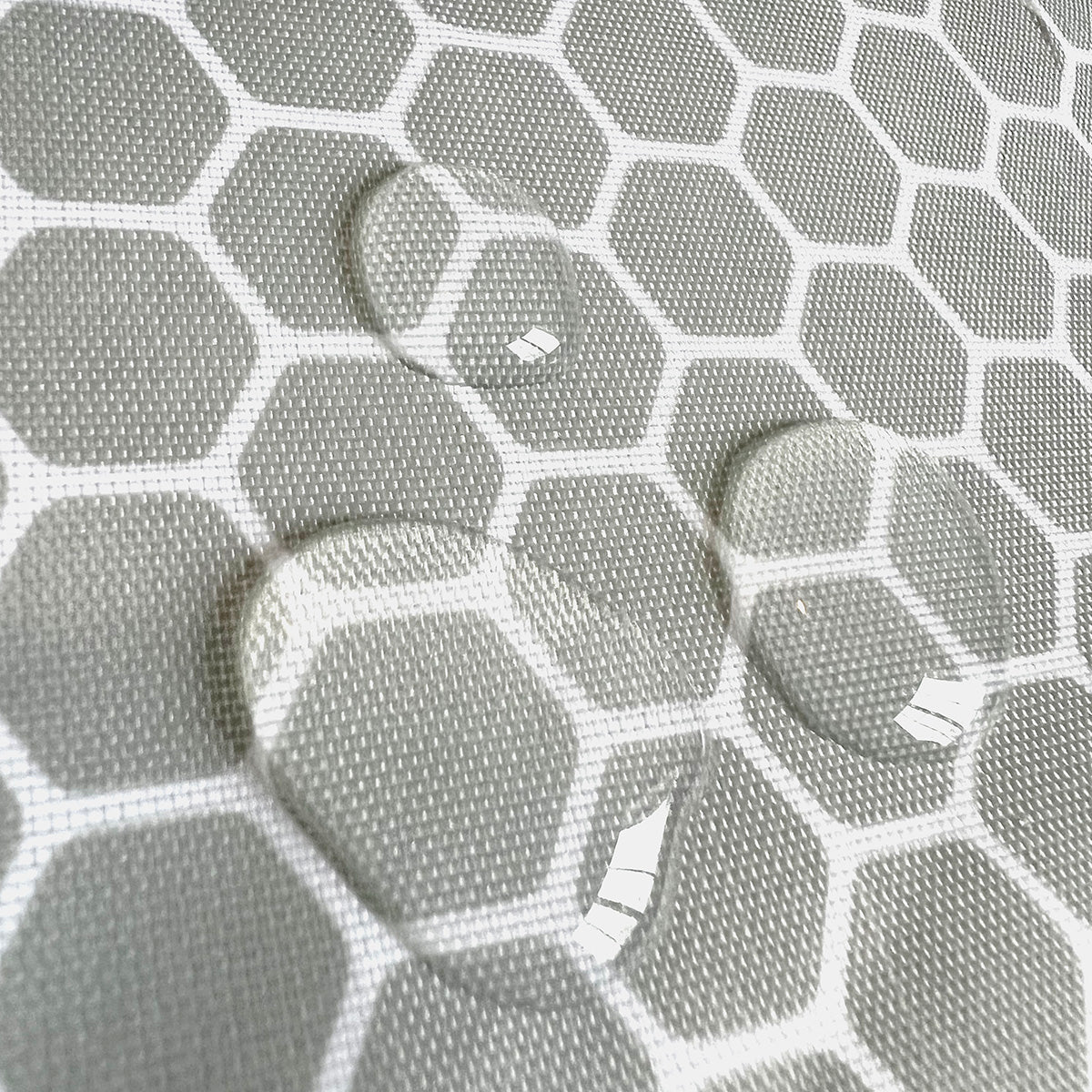 Less Stress, Less Mess, More Fun!
SnoofyBee's Playtime Changing Pad™ is so much more than your average diaper clutch. Our patented, playtime distraction barrier allows you to hang toys and gently redirect your child's curiosity away from the mess. It's a must-have for any parent and makes the perfect baby shower gift! 🎁
The Ultimate Diapertime Solution at Home or On-the-Go
With its built-in pillow, compact portable size, water-resistant surface, and strap to hang from your wrist or stroller, the Playtime Changing Pad™ has everything you need to make diaper changing a breeze—at home or on the go!
Because Every Moment Matters
The adage is true:
"They grow up SO Fast!"
Our complete diaper changing station turns the chaos of diapering into a sweet time of bonding. Our no-fuss solution allows you to diaper quickly and easily so you can enjoy more quality time together.
🛑Stop the Diaper Time Wrestling Match!
Will the Playtime Changing Pad™ pin your child down? Definitely not! But it will make it MUCH easier to prevent the "alligator roll"with these 4 simple steps for success:
Have supplies close
at hand and ready to go
Change diaper from
the side to maintain eye contact
Attach engaging toys
to keep them happy
Hold both feet in one
hand and change with the other
As Seen On ABC's Shark Tank
"Brilliant!" "Clever!" "Smart!" There's a reason the Sharks loved this viral sensation!
Fold in Supplies to Be Ready On-the-Go
Switch out toys regularly and fold in an extra diaper and a few wipes for instant changes anywhere. This compact size also fits well in any standard diaper bag.
The Only Changing Pad You'll Need from Newborn to PottyTraining
The Playtime Changing Pad can lay flat as a large standard changing pad, and when needed, the toy barrier is adjustable to fit children up to 21 inches around the lower chest.
The Ultimate Solution to Mess-Free Diaper Time
The 3-in-1 Clean Hands Changing Pad and diaper clutch is the ultimate solution for on-the-go diapering with entertainment. This portable changing pad has a unique toy-hanging barrier that sets it apart from others on the market. It keeps your child's hands out of the mess during diaper changes, and provides entertainment for them when you attach their favorite toys. This clean hands changing pad design makes diaper changes a breeze.
The built-in pillow provides extra comfort and convenience for your little one, while the lightweight and compact foldable design makes it easy to take with you wherever you go. The changing pad is made with water-resistant materials that are easy to clean and friendly to your baby's delicate skin. It's an excellent choice as a baby shower or registry gift, and the barrier fits around most kids to 30 months and with 27 inches of changing space it is all the room you'll need for diapering until they are potty trained. 
So why wait? Try the Playtime Changing Pad today and see the difference it makes in your diaper changing routine. With its satisfaction guarantee, easy-to-clean materials, and convenient design, it's sure to be a favorite among parents everywhere.
WARNING: CHANGING PAD IS NOT A TOY. DO NOT USE ON RAISED SURFACE. DO NOT LEAVE CHILD UNATTENDED. DO NOT OVER-TIGHTEN BARRIER. ONLY USE TOYS APPROPRIATE FOR THE AGE OF YOUR CHILD. DO NOT PLACE BARRIER AROUND CHILD'S NECK. KEEP AWAY FROM OPEN FLAME. INSPECT REGULARLY AND REPLACE IF ANY PART IS DAMAGED. CHEWY BUCKLE WARNING: WASH BEFORE FIRST USE AND EVERY TIME USED.
INSPECT REGULARLY AND DISCARD WITH FIRST SIGN OF WEAR. WHEN PAIRED WITH BLANKETS OR OTHER ITEMS IT CAN CAUSE A STRANGULATION OR SUFFOCATION HAZARD. WHEN COMBINED WITH OTHER ITEMS DO NOT LEAVE CHILD UNATTENDED
Pat.US9,907,412 B2
•       Keep your child entertained away from the mess during diaper changes with the toy-hanging barrier that keeps those little hands clean making diapering time easy for you and fun for your little one.
•       The large changing pad surface folds down for lightweight and portable on-the-go diapering. Laid flat it is 13x27 and when folded down it is 13x7x2
•       The water-resistant surface is easy to wipe clean and the built-in pillow provides extra comfort making diaper changes a breeze
The Playtime Changing Pad has a strap that can be attached to your wrist or stroller 
It is available in gender-neutral prints and will make a great addition to any new parent's collection of baby essentials. With the Playtime Changing Pad, diapering with entertainment is made easy and fun. 
It's an excellent choice as a baby shower or registry gift or first birthday present. It is perfect for moms, dads and caregivers