Brushing Buddy™
2-in-1 Silicone Teether and Brushing-Time Mouth Prop Toy
Regular price
$13.99 USD
Sale price
$11.89 USD
Unit price
per
Sale
Sold out
Shipping

Free Shipping on All Domestic US orders.

All items ship from our warehouse in Oregon.

Shipments placed before noon pacific standard time on regular business days will ship out the same day and typically deliver within 2 to 5 business days within the United States. International shipments normally take 2 to 8 weeks to deliver.

If you have any questions or need any help, email Amy and Mike at info@snoofybee.com and we will help you out.
Satisfaction Guaranteed

Quality Guarantee: If your item doesn't last for at least 1 year with regular use, we will replace it for you.

Satisfaction Guarantee: As parents of 6 kids we understand that what works great for most, doesn't necessarily work for every child. For that reason, we provide full refunds on all returns within 30 days.

See our returns guide for more details

If you have any questions about your shipment or need to process a return please contact us at info@snoofybee.com
Care Instructions

IMPORTANT!

Wash and inspect thoroughly before each use. Discard with first sign of weakness.  Discard any attachments or packaging
before giving to child. Always use with adult supervision. Store in a clean dry place away from direct sunlight. Dishwasher safe and safe to boil in water. Please retain all product information for future reference.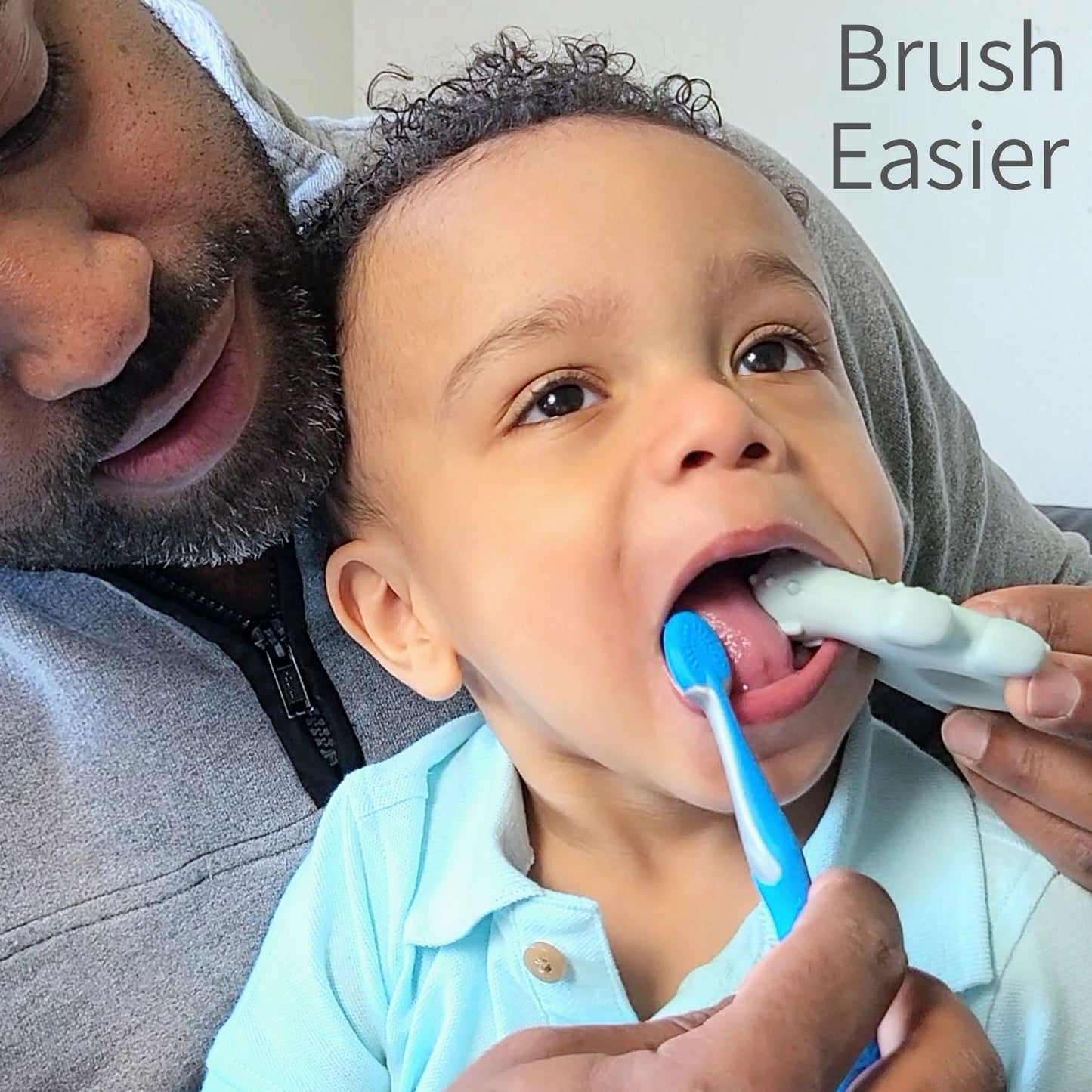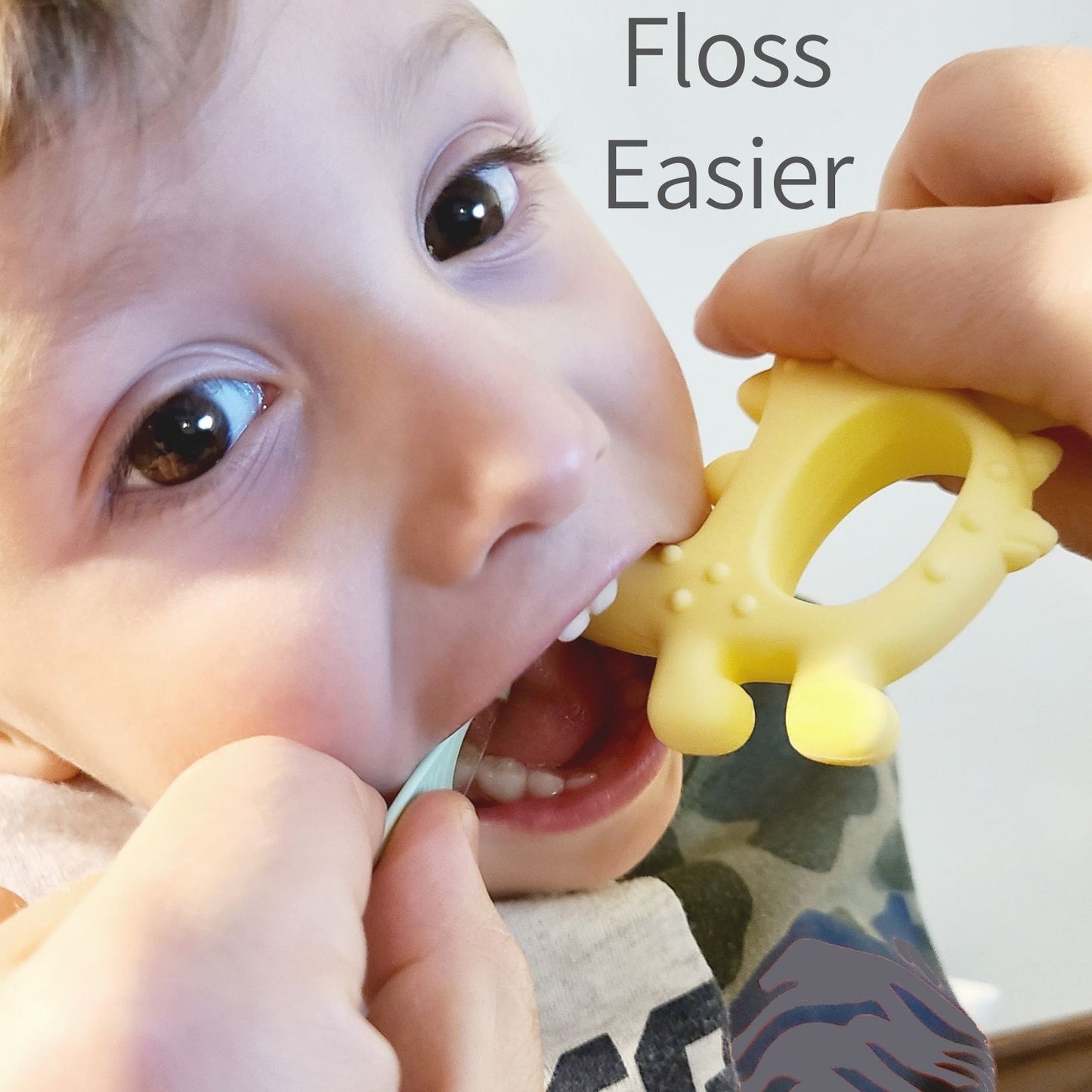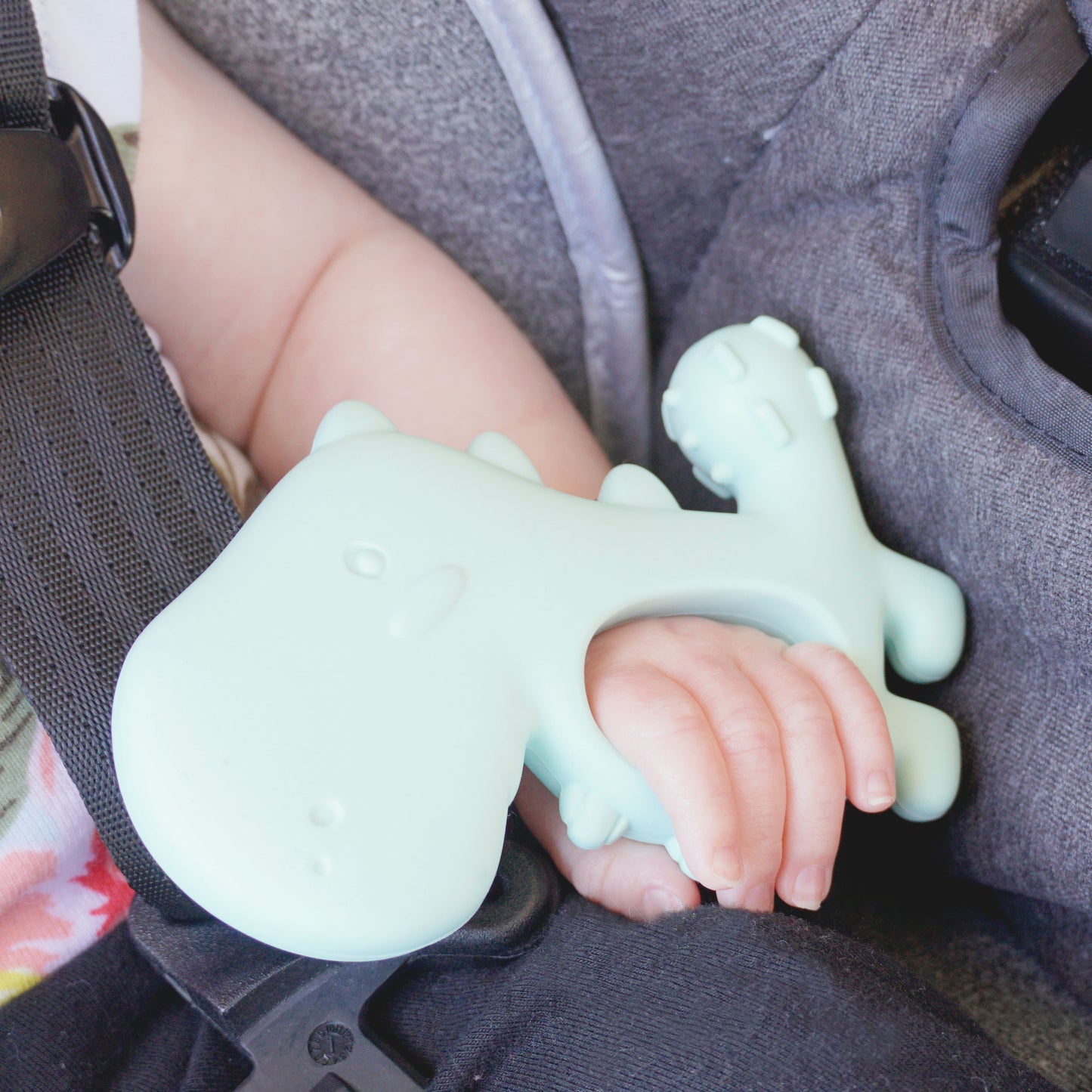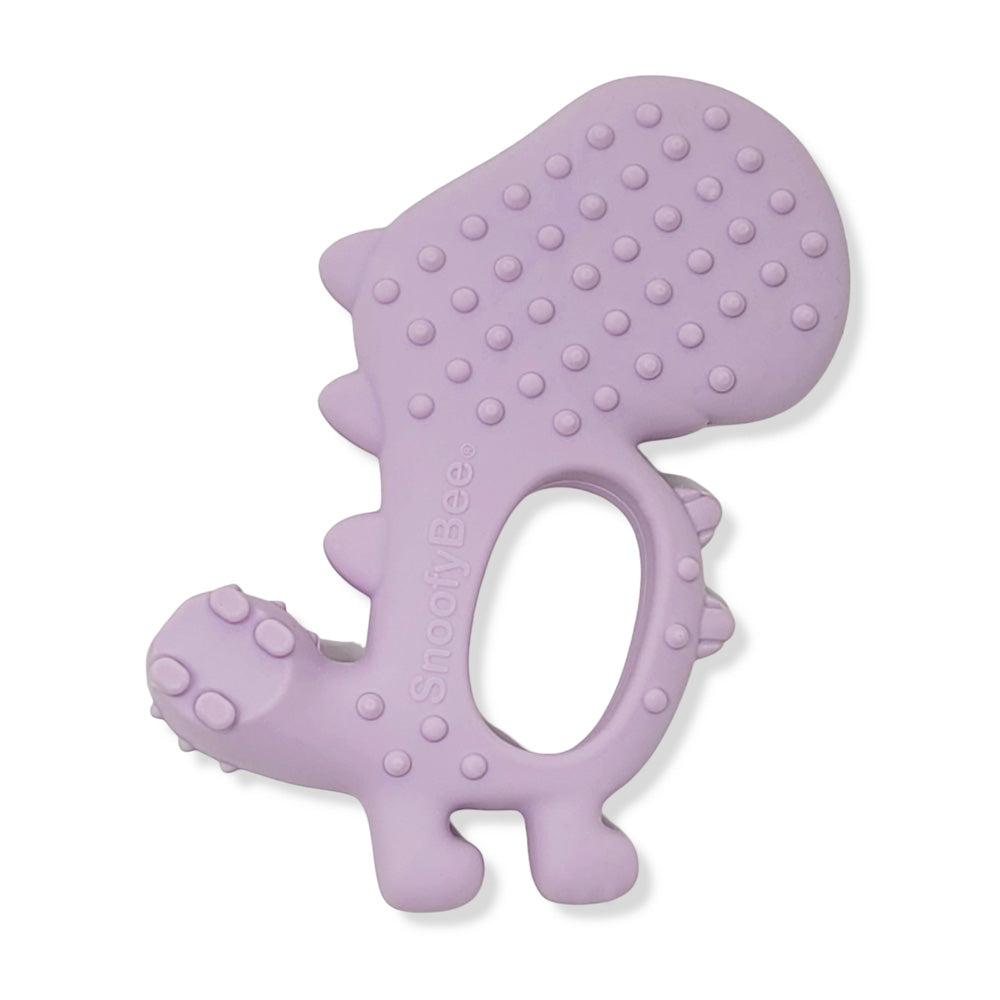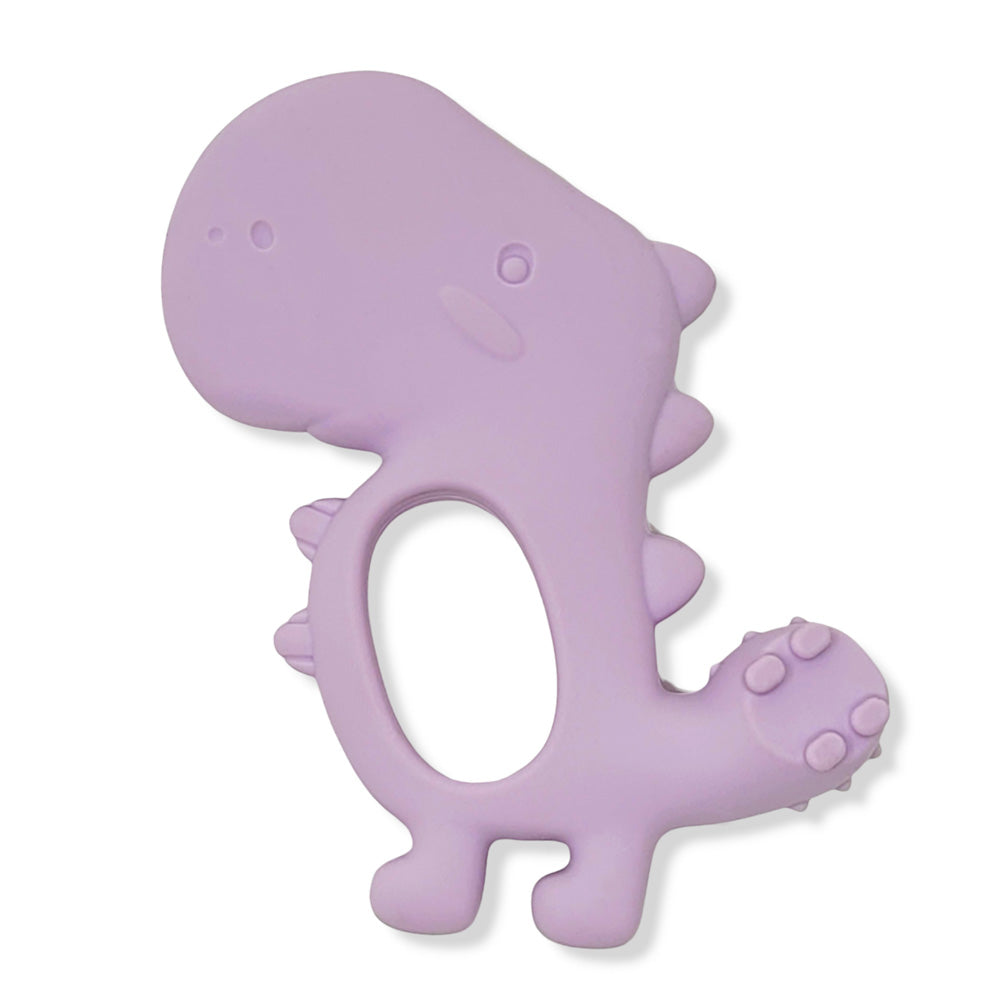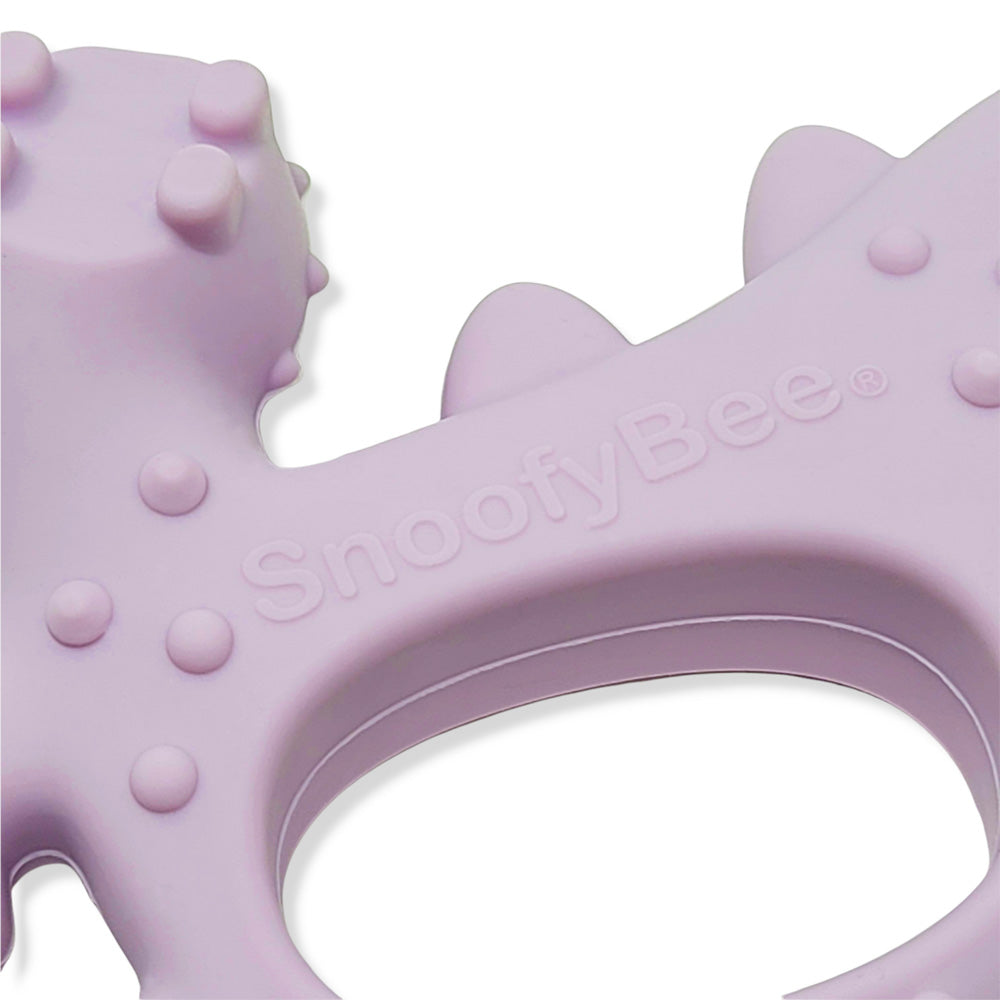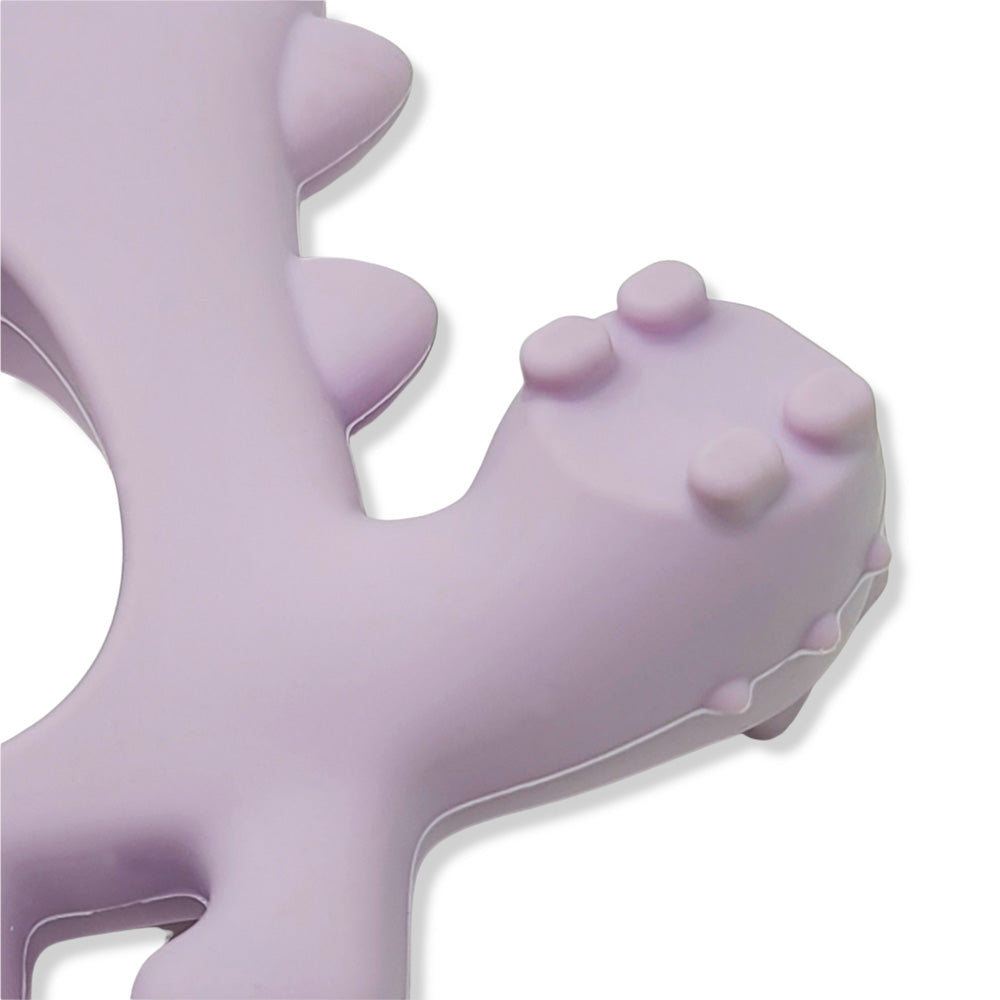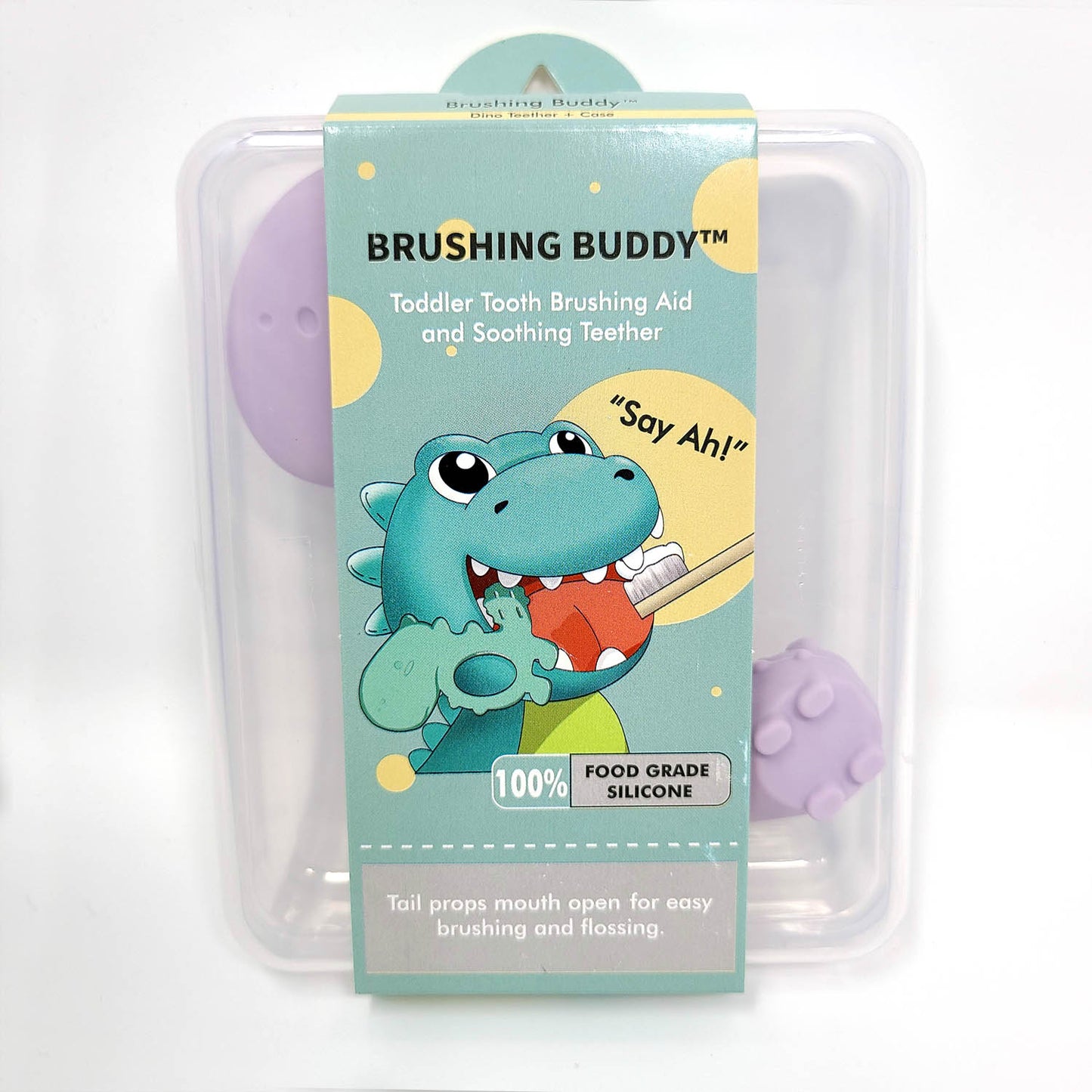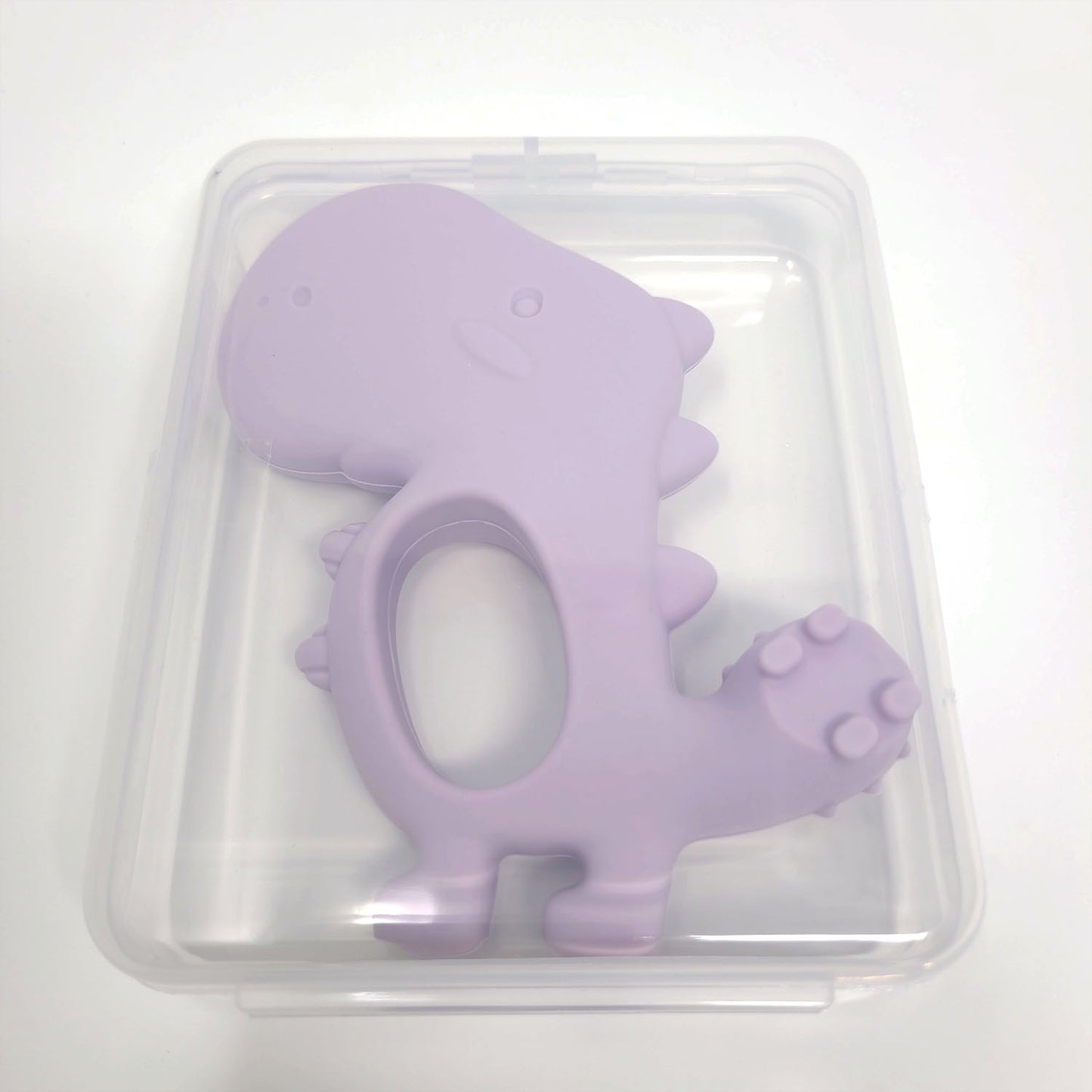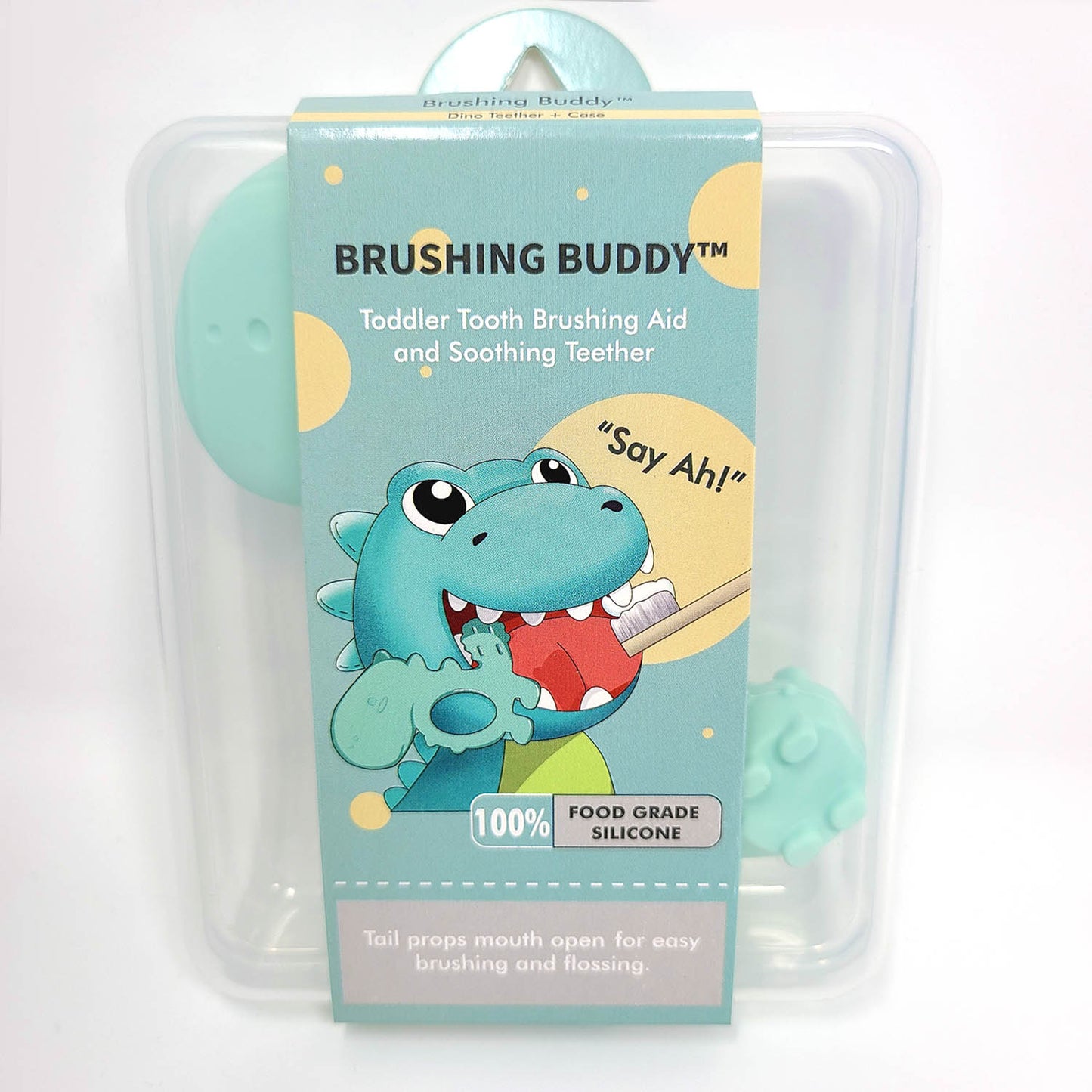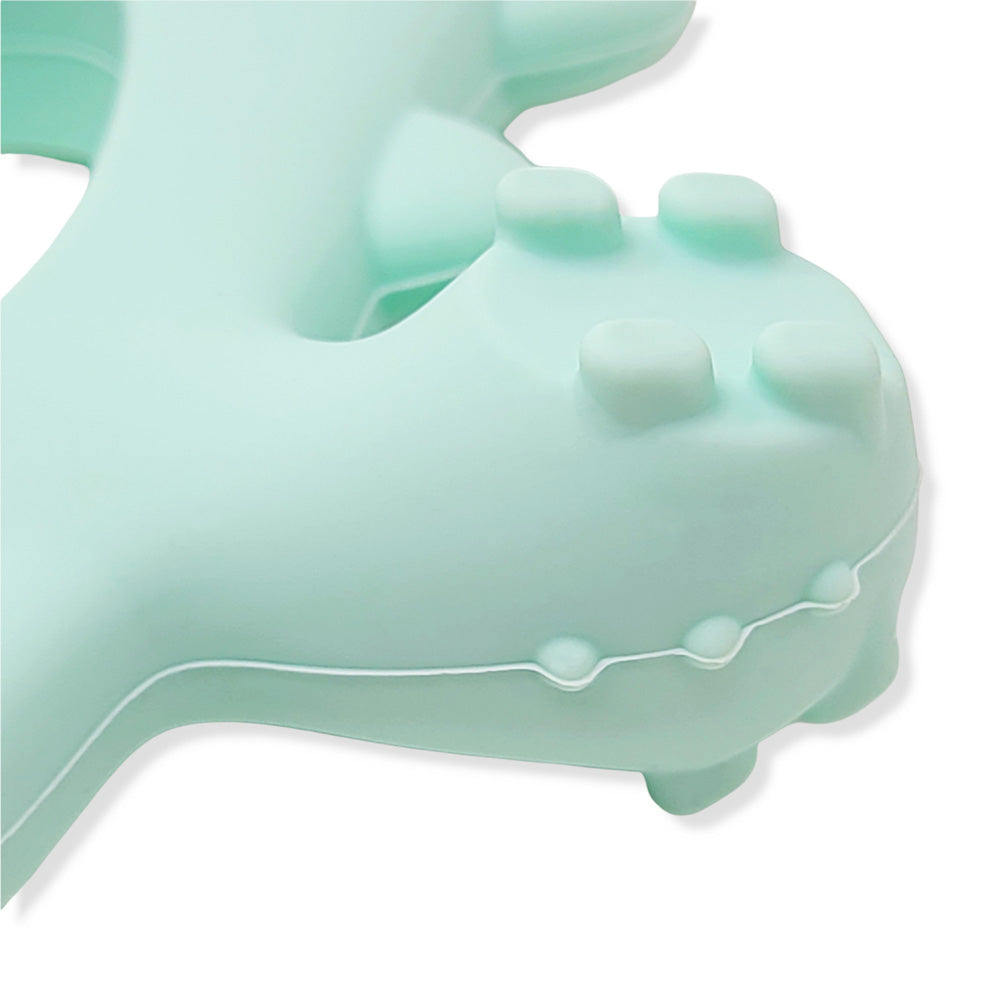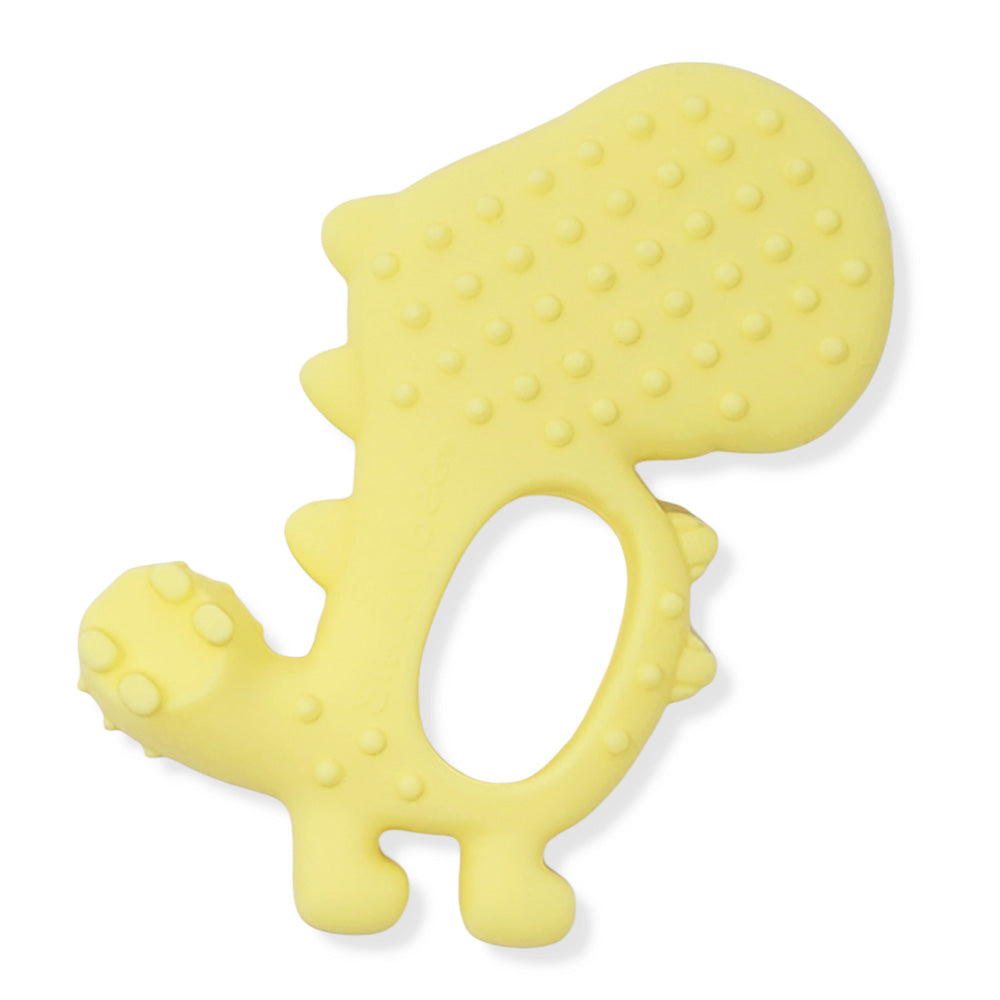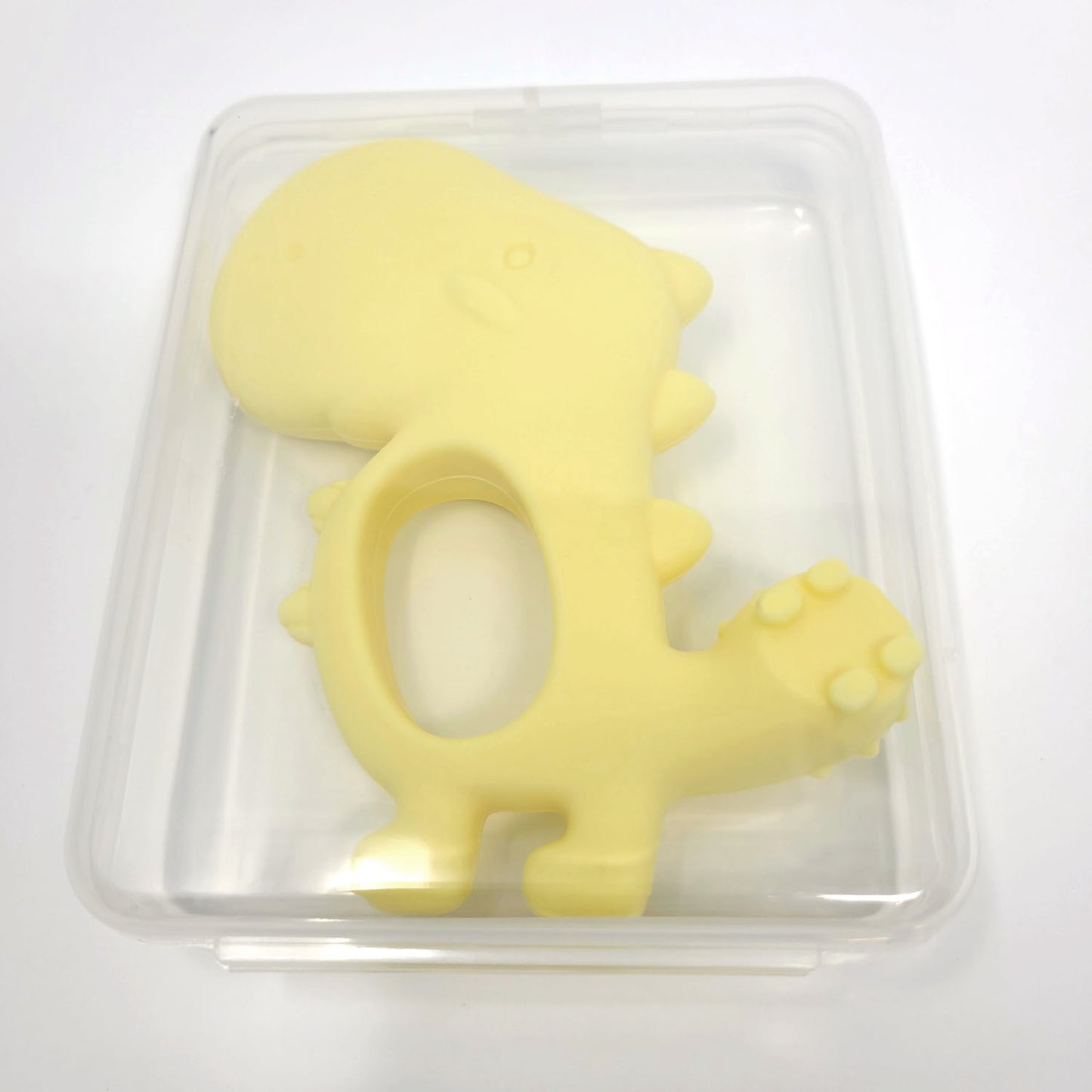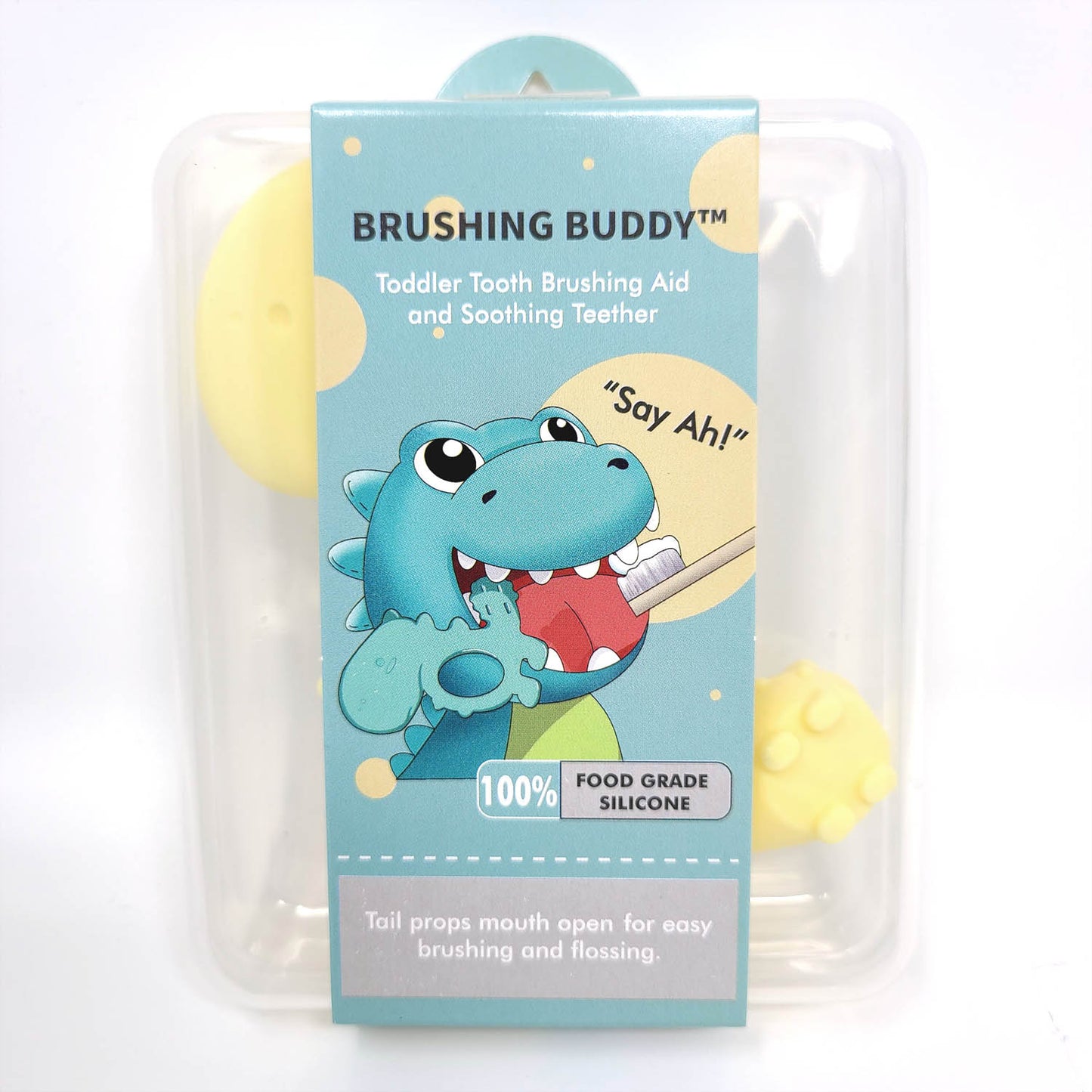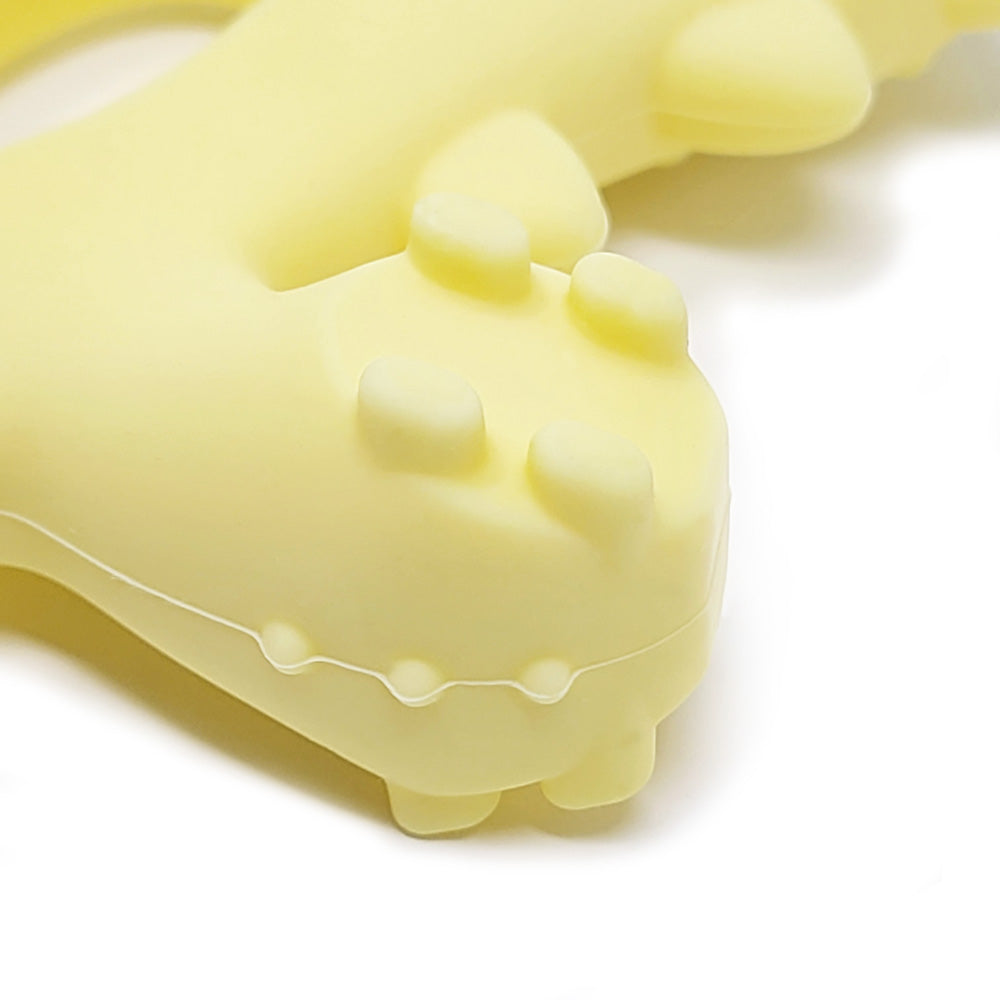 Unleash the Ultimate Teething Adventure with Brushing Buddy!
Made of 100% food-grade silicone, this teether offers a perfect blend of flexibility, durability, and irresistible chewiness. Its fun dino shape and textured bumps provide a stimulating and soothing experience for your little one's sore gums.
Say Ahhh!
Once those teeth come in the chewy tail is a fun way to help keep their mouth open wide for tooth brushing and flossing. Its fun texture and ideal shape distracts them from the feeling of bristles and flossers.
The tail is designed to be the widest while the feet and head are narrower so you can adjust what they chew on depending on their needs.
Carefully Thought Out and Designed To Last
Handle Is Perfectly Shaped For Baby Hands To Grasp
Teething Texture Doubles as Grip That Works When Wet
Dino Head Fits Comfortably In Left Or Right Hand
100% Food Grade Silicone
BPA Free, Phthalates Free, and Non-Toxic
Dust Case Included
Each Brushing Buddy comes in a reusable dust case to keep it clean and ready for use at home or on-the-go.
Kid Safe Durable Material
Brushing Buddy is dishwasher safe and heat-resistant, so you can easily sanitize it for peace of mind. And unlike many other teething toys, it's naturally BPA-free, phthalate-free, lead-free, and non-toxic, making it a safe choice for your little one. Plus, its thoughtful design ensures it's safe for baby's delicate mouth and has been rigorously tested by a certified third-party facility to meet all US Consumer Product Safety Commission standards and requirements. Give your baby the best teething experience with Brushing Buddy.
Steps To Easier Brushing and Flossing
With a little practice using the steps below, you and your little one will be cruising through brushing time before you know it:
1. Rest Child's head on your shoulder or other snug stationary object to reduce movement
2. Occupy child's hands with a book or something engaging.
3. Insert teether toy into one side of child's mouth.
4. Brush or floss on the other side of the child's mouth
5. Switch sides and repeat